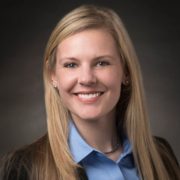 Drawing on 10 years of experience in the financial services industry, Jessica Piatt works to find tailored capital solutions for investors, developers, and business owners.  With a strong background in financial analysis and modeling, and solid foundation in credit structure, Jessica helps clients finance projects ranging from $1 million to $50 million and draws on ONB's wide range of supportive services to help clients reach their financial and personal goals.  In the real estate realm, she has experience across a spectrum of asset classes including multifamily, senior housing, office, retail, and industrial projects; and has navigated complex structures including phased development, commercial condominiums, TIF, grants, and tax credits.
Jessica earned her Bachelor of Science in Finance from the University of Illinois, and before entering the banking industry she cut her teeth in finance at a valuation consulting firm in Chicago, where she focused on intangible asset valuation and goodwill testing for both publicly traded and privately held companies in a variety of industries, including consumer goods, software, food and beverage, and financial services.  Jessica and her husband made Madison home in 2012.
When she's not stewing on an excel model or hobnobbing around Madison, Jessica schemes her next travel itinerary, goes for a hike in the woods, drops in on one of Madison's many excellent live music venues, or pokes around the public library reading anything that looks interesting.  She is also active in Downtown Madison Inc where she is a member of the Parking and Transportation Committee, and serves on the Community Advisory Team for The Beacon homeless resource center.