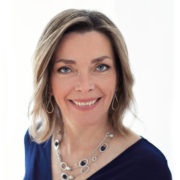 Kris's fascination with architecture and construction led her to her career as a consulting engineer.  From a young age she was drawn to architecture and building structures, spending hours drawing up building plans.  When in high school, she discovered an engineering option of architectural engineering and as they say, the rest was history.  She graduated from the pride of purple nation, Kansas State University, with a bachelor's of science in architectural engineer.  She later became a licensed mechanical engineer working with clients in the design of HVAC, plumbing and fire protection systems for a variety of commercial building types.
In her 25 plus year career, she has had the fortune of working in almost every commercial venue including higher education, healthcare, and commercial mixed use.  The constant challenge of working to find the perfect solution for her clients is what motivates Kris to continue pushing for more.
An appreciation of nature and desire to help preserve what resources we have, led to Kris becoming a LEED accredited professional when LEED was just a new buzz word in the industry.  Through the years, Kris has helped her clients achieve and visualize their sustainable goals with the design of their buildings.  Whether a project follows LEED certification or not, Kris always asks what is the best for the client with energy efficiency and how can we be good stewards of our environment.
Kris began her career in Houston, Texas and eventually found her way to Madison where she has spent the last 23 years with IMEG corporation, formally KJWW Engineering.  She started as a mechanical engineer, became mechanical department supervisor as the office grew, and onto focused project management as project executive.  She is presently the Client Executive in Madison, managing an office of over 30 design engineers and construction administration staff.  Kris also sits on the Engineering Section of the Architecture and Engineering joint board for the state of Wisconsin.
As a career professional, a mom, and a wife, she works to balance life but having a true passion in what you do, helps.  She has logged enough hours as an enthusiastic spectator of her kid's events to be certified as an expert in dance, baseball, softball, and football.  As she transitions into the next phase of life, with her oldest off to college and her daughter in high school, she plans to face the next round of challenges with lots of dog walks, cooking, good books and good movies.
"I initially joined Brauds 2.0 because I thought it would be a good professional networking experience. What I've discovered is far more, the support and comradery from this group is like no other I've experienced.  The friendships and golf are just an added bonus!"