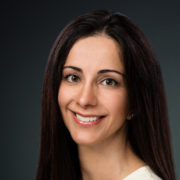 Dr. Cordes is a serial entrepreneur, investor, and physician commercialization executive with 17+ years of healthcare experience, spanning a rare skill set and guided by an entrepreneurial drive.  She has a proven track record of growing sales and revenue using a consultative sales approach to acquire large, enterprise-wide health system clients. She is the CEO of DotCom Therapy, the industry leader in speech, occupational, and mental health teletherapy.
Prior to her current role, Sanaz started Value Prop Shop in 2016, and her team of seasoned startup and healthcare experts have worked with over 20 health tech startups, partnered with several venture capital firms and innovation/incubator organizations. From product development, ROI build, pricing/contracting optimization, website and branding overhaul, fundraising, to customized executive consulting, Value Prop Shop, is the only consulting firm in the U.S. working exclusively with healthcare tech startups.
Prior to Value Prop Shop, Sanaz joined a team of 5 entrepreneurs as COO/CCO at healthfinch, a health tech startup, and built multiple departments including inside and outside sales, marketing, clinical content, and internal operations/finance/compliance.  She helped grow the team to over 30 employees in under 3 years, worked closely with the CEO to secure a large Series A, and drove a 10X revenue increase. A recognized clinical thought leader, Sanaz is invited to speak at numerous national conference and panels every year.
Prior to healthfinch, Sanaz began her career as a physician partner and administrator for Providence Health and Services – the sixth largest nonprofit health system in the country. She transitioned to healthcare technology at Zynx Health (a Hearst subsidiary), where she began as a physician product developer and then moved into roles including heading strategic partnerships & incubator company due diligence, and serving as the managing director of a business unit of sales, accounts, and regional medical and nursing officers.  At Cogent Healthcare she served as the Chief Development Officer, closing over $16M in total contract value in one year.
Sanaz completed her residency at UCI in California, medical school at UT Southwestern in Dallas, and a B.S. at Southwestern University in George, Texas.